In Haiti, no cases of cholera have been confirmed since February 2019[1]. This represents the first lull period in cholera cases in the country since the bacterium was inadvertently imported nine years ago[2,3]. Between 2010 and 2018, a total of 813,261 suspected cholera cases, including 9,611 deaths, have been reported in Haiti[4].
 
According to UN Special Envoy Josette Sheeran, "Reaching this critical milestone was possible through an innovative plan that ensured a unified response"[1]. In early 2013, the Haitian government, Pan American Health Organization, United Nations Children's Fund (UNICEF) and the Centers for Disease Control and Prevention launched a comprehensive National Cholera Elimination Plan for Haiti 2013–2022, which includes improvements in Haitian water and sanitation infrastructure, epidemiological surveillance and rapid response activities to control outbreaks[5].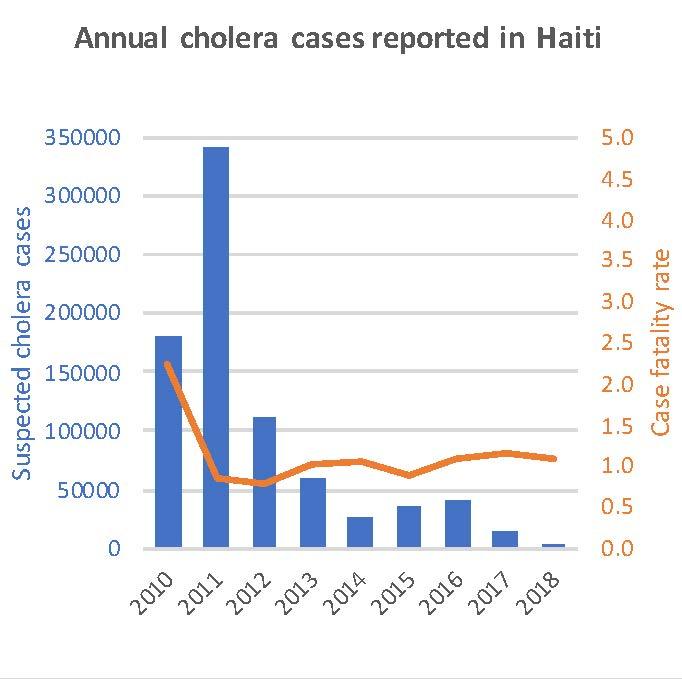 Later that year, the Haitian government, UNICEF and other international partners launched a nationwide alert-response strategy to monitor the epidemic and response efforts on a weekly basis. Coordinated NGOs have recruited local rapid response mobile teams, staffed entirely by Haitians, which were deployed to all affected areas to identify cases and conduct case-area targeted WASH (water, sanitation and hygiene) interventions in the community, including education sessions, household decontamination and distribution of chlorine tablets[6]. In a recent op-ed, Ms. Sheeran stated "They demonstrated that cholera can be brought under control by intervening directly through an effective alert-response system at the community level. I believe this model can be effective in other epidemics throughout the world"[1].
 
However, Ms. Sheeran warned that people should not "let down the guard". "As we enter the last mile of the cholera epidemic, we must ensure that Haitians continue to have access to the robust surveillance system and response capacity we have jointly developed" [1]. As a result, the UNICEF strategy has placed more emphasis on strengthening the surveillance system at the community level and increase WASH long-term preventive measures, while strengthening the preparedness and response capacities for water-borne diseases [7].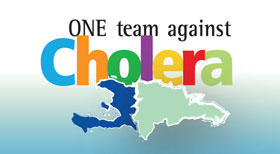 The recent lessons learned in Haiti are not only extremely encouraging for the island of Hispaniola, but also an indicator that cholera elimination may be possible in other nations deemed cholera-endemic, if adequate steps are taken to improve epidemiological surveillance, outbreak response efforts and water and sanitation infrastructure.
---
A public-private coalition
At the heart of the fight against disease in Haiti, the Regional Coalition for Water and Cholera Elimination has brought together Unicef, the Pan American Health Organization/World Health Organization (PAHO/WHO), the American Center for Disease Control (CDC) and the Merieux and Veolia foundations for seven years. In collaboration with Dinepa, the public administration in charge of water services in Haiti, these actors have mobilized their expertise to promote the need for a WASH approach in the fight against cholera.
---
1            Sheeran, Josette (2019) 'A Haiti free of cholera is almost within reach. But the battle is not over'. Miami Herald. [online] Available from: https://www.miamiherald.com/opinion/op-ed/article237160659.html
2            Piarroux, Renaud, Barrais, Robert, Faucher, Benoit, Haus, Rachel, et al. (2011) 'Understanding the cholera epidemic, Haiti.' Emerging infectious diseases, 17(7), pp. 1161–8. [online] Available from: http://www.pubmedcentral.nih.gov/articlerender.fcgi?artid=3381400&tool=pmcentrez&rendertype=abstract (Accessed 11 November 2013)
3            Frerichs, R R, Keim, P S, Barrais, R and Piarroux, R (2012) 'Nepalese origin of cholera epidemic in Haiti.' Clinical microbiology and infection : the official publication of the European Society of Clinical Microbiology and Infectious Diseases, 18(6), pp. E158-63. [online] Available from: http://www.ncbi.nlm.nih.gov/pubmed/22510219
4            OCHA (2019) Haiti: Humanitarian Snapshot (Jan 1 - Dec 31, 2018), [online] Available from: https://reliefweb.int/sites/reliefweb.int/files/resources/OCHA-HTI-Snapshot-20190307_EN.pdf
5            Republic of Haiti, Ministry of Public Health and Population and National Directorate for Water Supply and Sanitation (2013) National Plan for the Elimination of Cholera in Haiti 2013–2022., [online] Available from: http://www.paho.org/hq/index.php?option=com_docman&task=doc_view&gid=20326&Itemid=270&lang=en.
6            Rebaudet, Stanislas, Bulit, Gregory, Gaudart, Jean, Michel, Edwige, et al. (2019) 'The case-area targeted rapid response strategy to control cholera in Haiti: a four-year implementation study'. PLoS neglected tropical diseases, 13(4), p. e0007263.
7            UNICEF (2019) Haiti Humanitarian Situation Report: January-June 2019, [online] Available from: https://reliefweb.int/sites/reliefweb.int/files/resources/UNICEF Haiti Humanitarian Situation Report - January to June 2019.pdf